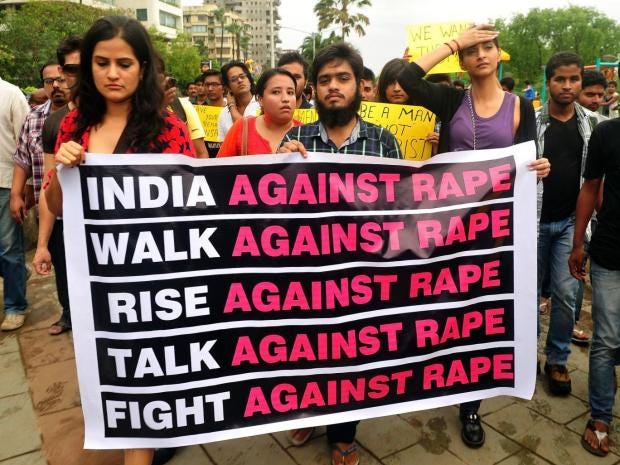 New Delhi is one of the worst places in the world for sexual violence against women, a new study has shown.
India's capital is still in the spotlight five years after the horrifying gang rape of a 23-year-old female student on a bus. The attack sparked mass protests and calls for action.  Since the woman's death in December 2012, Indian authorities have set up a fast-track courts system, a fund and 24/7 helpline for rape victims, as well as stricter punishments for gender-related crimes. Many city police forces have received specialized training and set up women-only desks and patrols.
Safety apps have also been launched, taxi and rickshaw drivers have received lessons on gender and women's self-defence classes and women-only taxi services have also sprung up around the city. Yet a poll by the Thomson Reuters Foundation found Delhi to be India's "rape capital".  There were 2,155 rapes recorded in Delhi in 2016 – a rise of 67 per cent from 2012, according to police data.
Think tanks estimate that only a minority of crimes are reported. In India, a woman can be "shamed" or "dishonored" if she is the victim of a sexual assault. For the survey, a total of 380 women's rights experts were asked to assess women's risk of encountering violence in cities with more than 10 million inhabitants between June and July this year. The experts also considered women's access to health care, economic opportunities and their protection from harmful cultural practices.
"I'm not surprised by the results as they're based on perceptions. India and Brazil have seen a lot of media attention on sexual violence in recent years," said Rebecca Reichmann Tavares, head of UN Women in India who also worked in Brazil. "Sexual violence in both these cities is, of course, a reality, but there isn't any definitive data to suggest that rates are higher in Delhi and Sao Paulo than any other city."
Delhi, a city of more than 26 million, came in joint worst place with Sao Paulo in Brazil, out of 19 mega cities. Tokyo was ranked the best city in terms of the least risk of sexual violence faced by women, although campaigners say the issue is simply hidden and not talked about. Cairo in Egypt was rated the most dangerous city for women overall, while London was rated the best mega city for women.
Source:- Independant.co.uk