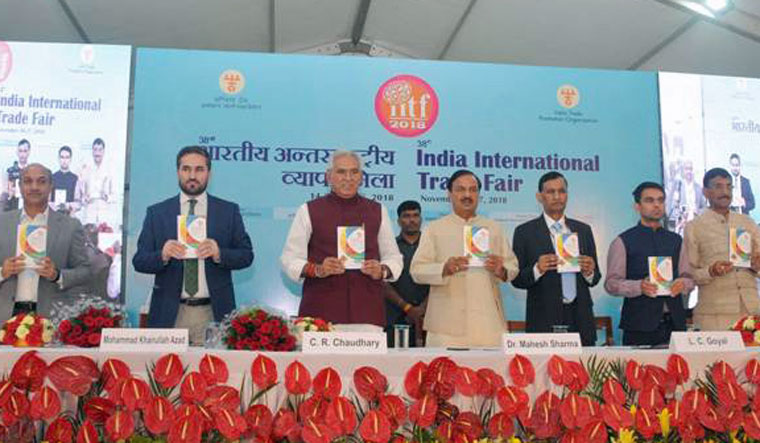 Neighbourhood News Desk/ Garima Kotroo: The 38th edition of annual India International Trade Fair 2018 (IITF) has begun with the smaller space as compared to previous editions. The 14-days event was inaugurated by Minister of Commerce and Industry C R Chaudhary along with the Union culture Minister Mahesh Sharma at Pragati Maidan, New Delhi. 
This year the exhibitors could face the problem of inadequate spacing due to construction in Pragati Maidan to build a state-of-the-art Integrated Exhibition-cum-Convention Center by the end of September 2019.
Despite the constraints, all states and union territories have participated in the fair with the blazing theme of 'Rural Enterprise in India'. The focus state of this year is Jharkhand along with the focus country Nepal.
Entry for the visitors will be facilitated through only three gates, Gate No. 1 (on Bhairon Road), Gate No. 8 (on Mathura Road) and Gate No. 10 (Pragati Maidan Metro Station). Entrance in the fairground will be allowed from 9.30 am to 5.00 pm. It will end at 7.30 pm.
The initial four days (November 14-17) for business visitors have been embarked with the entrance fee of Rs500 per person and season ticket of Rs1800. While the ticket charges for all the visitors during public days (November18-27) will be Rs120 per adult and Rs 60 for children.
The international participation includes businesses from Afghanistan, China, Hong Kong, Kyrgyzstan, Iran, Myanmar, Nepal, Netherlands, South Africa, South Korea, Thailand, Turkey, Tunisia, Vietnam and UAE.